Bitcoin Halving Dates History
| | |
| --- | --- |
| First halving event occurred on the 29th of November, 2012: | block height 210,000 |
| Second halving event occurred on the 10th of July, 2016: | block height 420,000 |
| Third Bitcoin Halving event occurred on the 11th of May, 2020: | block height 630,000 |
| Next Forth Bitcoin Halving event expected in 1,122 days: | block height 840,000 |
Bitcoin Halving Chart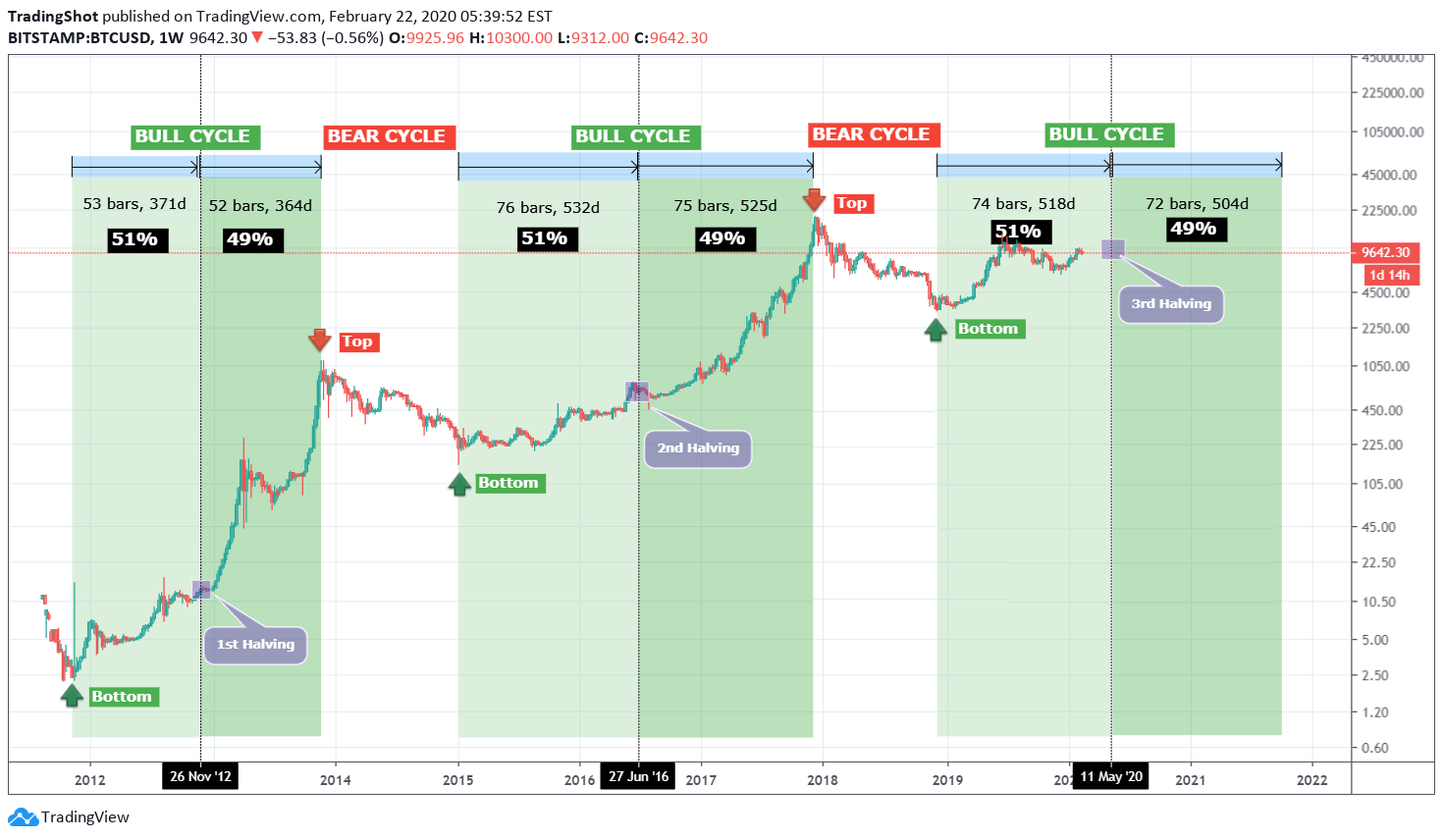 How Many Bitcoins Are Left?
There are 2,438,594 Bitcoins left to mine.
How Much Bitcoin is There?
There are 18,561,406 Bitcoins in circulation at this moment.
How Many Bitcoins Will Ever Be Created?
Maximum Bitcoins count is 21 000 000 BTC.
When Will The Last Bitcoin Be Mined?
The final Bitcoin is expected to be mined in 2140.
Bitcoin Halving Statistics
| | |
| --- | --- |
| Days left until Next Bitcoin Halving: | 1,122 |
| Total BTC in circulation: | 18,561,406 |
| Total Bitcoins to ever be produced: | 21,000,000 |
| Percentage of total Bitcoins mined: | 88.39% |
| BTC Reward for 1 block until 2024: | 6.25 BTC |
| Total Bitcoins left to mine until next blockhalf: | 1,126,094 |
| Total blocks: | 659,825 |
| Blocks left until mining reward is halved: | 180,175 |
| Approximate block generation time: | 8.97 minutes |
| Approximate blocks generated per day: | 161 |
Bitcoin Price Statistics
| | |
| --- | --- |
| BTC price (United States Dollar): | $19450.49 |
| Market capitalization (United States Dollar): | $361,028,446,652 |
Bitcoin Mining Statistics
| | |
| --- | --- |
| Bitcoin Mining Difficulty: | 19,157,154,724,710 |
| Bitcoin Mining Hash rate: | 143.80 Exahashes/s |
| Total Bitcoins left to mine: | 2,438,594 |
| Bitcoins generated per day: | 1003.71 |
Bitcoin Inflation Statistics
| | |
| --- | --- |
| Bitcoin inflation rate per annum: | 1.98% |
| Bitcoin inflation rate per annum at next block halving event: | 0.99% |
| BTC inflation per day (United States Dollar): | $19,522,724 |
| BTC inflation until next blockhalf event based on current price (United States Dollar): | $21,903,075,223 |
Bitcoin Soft Forks
| | |
| --- | --- |
| Current activated soft forks | bip34,bip66,bip65,csv,segwit |